On December 17, 2019, the dental practice of Dr. Biserka Banković received an official confirmation and certificate for participation in the Project for the Development and Promotion of Health Tourism in the Republic of Serbia.
The certificate was approved by the Ministry of Health and Minister Zlatibor Loncar.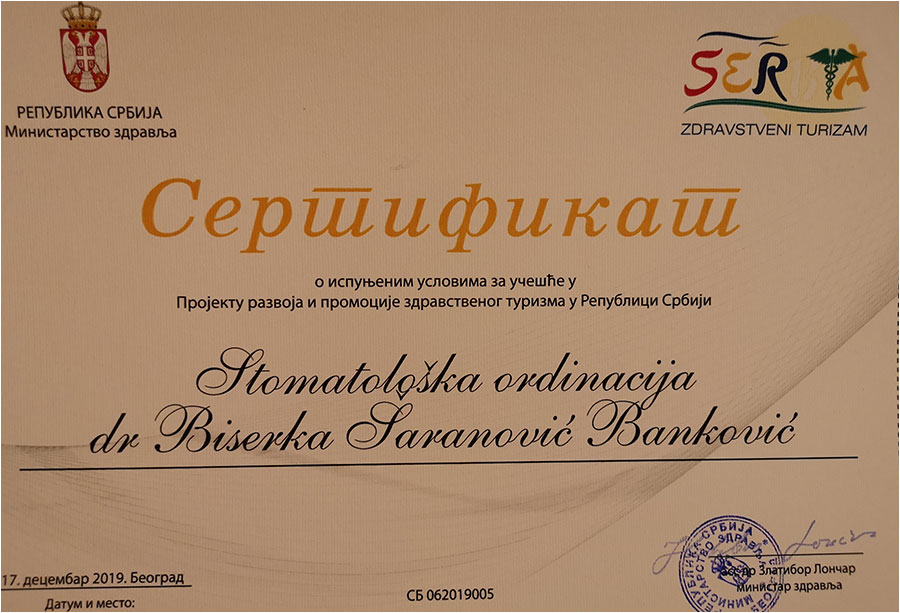 Dental tourism
With the official confirmation and certificate obtained from the Ministry of Health, the Dental Practice of Dr. Biserka Banković becomes a part of health tourism, in the field of dentistry.
Dental tourism as a branch of health tourism is becoming an increasing trend in Serbia. It is no secret that a large number of our people come to Serbia to solve their dental problems for the reason that in our country, for the same quality service, they spend significantly less money than anywhere else in the world. Apart from our people, there are also foreigners who visit our country for dental reasons, plus they have the opportunity to visit the city and pay for the trip and services for which they originally came. .
The dental practice of Dr. Biserka Banković already has a large number of patients from all over the world, and in this way we are deepening the service with the goal of mutual satisfaction. While we are arranging your smile, we will instruct you on what you must not miss from the sights of our beautiful Belgrade! We see your arrival as a combination of beautiful and useful.
You can contact us via Viber or WhatsApp application at +381 63 77 83 700 to arrange all the details for your arrival. You can also write to us by e-mail
drbisaban@gmail.com.
Welcome!